OBJECTIVES:
Be able to carry out the correct maintenance procedures of the systems equipped with an AdBlue® dosing system using TEXA diagnostic equipment. At the end of the course the participant will also be able to carry out the following procedures for a correct diagnosis of the system:
– AdBlue® supply system control
– dosing circuit leak control
– AdBlue® injector operation check
– NOx control sensor check

COURSE CONTENTS:
General information on the system with con AdBlue® and its generic operation. Description and operation of the components in the specific AdBlue® systems of Mercedes, Audi, Volkswagen and BMW. Mazda, Zafira C, Ford Transit, Alhambra, Renault Traffic AdBlue® refilling. Defectiveness and repair procedures.
DURATION
8 hours
Per lo svolgimento delle prove pratiche in officina è richiesto abbigliamento consono e di indossare scarpe anti infortunistiche.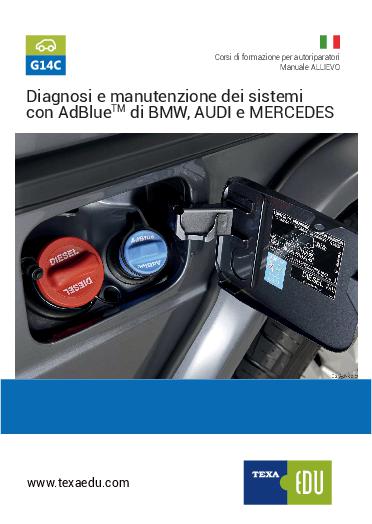 ---
PROGRAMMAZIONE
25/05/2021
ONLINE da: EUROTRADING PARTS
durata: 8 ore
---
Currently there are no courses scheduled
Prodotti Texa in questo corso: