RC2 is the electronic system for measuring engine speed and temperature.
Featuring a magnetic case, meaning it can be attached to the bonnet or the side members to run the tests with extreme ease.
RC2 features two modes for measuring engine speed: using a microphone and the residual battery capacity signal, or alternatively induction probes and piezo sensors.
Both the emission analysis modules and the RC2 and RC3 modules are separate units from the MULTI PEGASO and can communicate with the latter without requiring connection cables. Nonetheless, when the test is complete they can be attached to the trolley with a quick and simple operation for maximum space-saving.
Team and technology at your service
Exclusive services that allow you to make the most of its potentiality and receive continuous support by the TEXA Call Center's team* of specialists.
This way your workshop can always keep up with the latest automotive technologies.
An extra ally for the daily work of vehicle repairers.

* Verify the availability of SERVICER in your own country.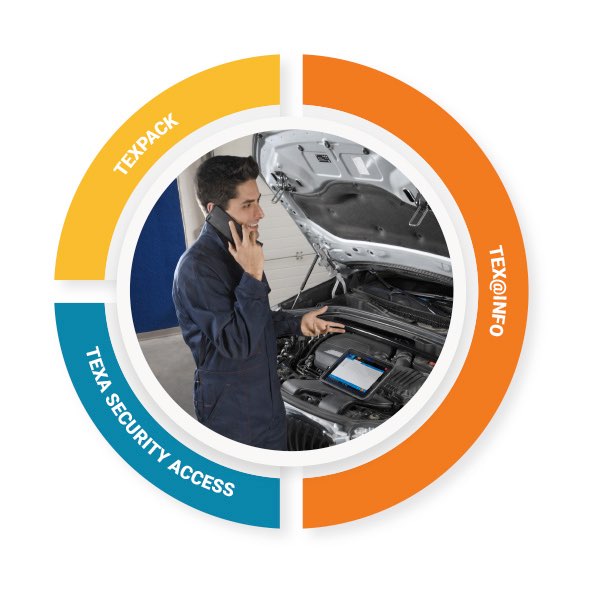 PROCESSOR SYSTEM
MB90F591 16MHz
EXTERNAL POWER SUPPLY
8 ÷ 32 Volt
WIRELESS CONNECTION
Bluetooth 1.2 technology
PETROL AND DIESEL DETECTION FROM BATTERY
Systems management at 12VDC and 24VDC
PETROL ANALOGUE DETECTION
Induction pincers
DIESEL ANALOGUE DETECTION
Piezoelectric pincers
ENVIRONMENTAL
Operating temperature: -5°C ÷ +40°C
Operating moisture: 10% ÷ 80% without condensate
Storage temperature: -20°C ÷ +60°C
DIMENSIONS
125x130x27 mm
WEIGHT
370 g